COMMISSIONED IMAGES
Portraits are a way of putting a question mark on oneself.
I create intimate, personal spaces,
You enter that space and I photograph the moment.
The dreamlike picture I create with you,
will be more than an image,
It will be a fascinating and gratifying expression of you
inner imagination.
a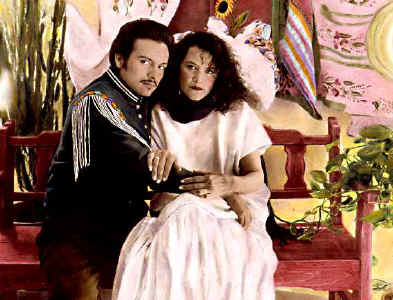 Elena and Jacinto ( click on image to enlarge)
A PHOTOGRAPHIC SESSION INCLUDES:
A preliminary meeting, usually at the client's home to discuss ideas and location for the shoot.
Photographic session: Three to five hours. Will include three to five environments, concepts.
Review of contact sheet to select image(s).
One hand painted image of selected size below.
20" x 24" $1,800.00
30'" x 40" $3,000.00
Mural sizes available upon request.
A second image selected from the original shoot is reduced 10%.
Framing extra, based on frame and mat selected.
Allow six to eight weeks from time of print selection for delivery of unframed print.
One half deposit required upon commission.
Artist retains negative. Precluding client's permission, portrait may be shown in future art exhibitions.
INQUIRES / HOME / STATEMENT / IMAGES / RESUME